The Oceanview Mine fee dig is hosted by Jeff Swanger. He is supported by a variety of others including Jeff's sister, Lisa Swanger Koonce, and two GIA gemologists, Cameron Martos and Loren Kravitz. The crew works hard to make sure that you dig experience is the best it can be, preparing tables, keeping the water tubs full, and helping identify specimens you find. That doesn't even include the many hours of work repairing equipment, keeping the dig pile freshly stocked and keeping the grounds clean.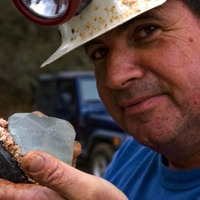 Jeff Swanger, CEO Oceanview Mines, LLC
Jeff is CEO of Oceanview Mines, LLC and owner of the Oceanview, Pala Chief and Elizabeth R mines on Chief Mountain. Jeff has had an interest in pegmatites and mining since he was a boy growing up in nearby Escondido, CA. Now he's living his dream of discovering the next great gem pocket in the Pala Mining District.

Click on the Read More link below to learn more about Jeff.
Lisa Swanger Koonce


Jeff's sister Lisa frequently helps host the fee digs, often serving to greet folks at the lower gate as they arrive then keeping things in order and helping folks as the dig progresses. A regular guest is Lisa's dog, Rocky--aptly named!

Rocky is the only dog allowed on the mine property. Maybe its because of his name, or maybe it's because he's Lisa's dog. Either way, he loves to come to the dig and makes friends with everyone.