Jeff Swanger, Oceanview Mines, LLC CEO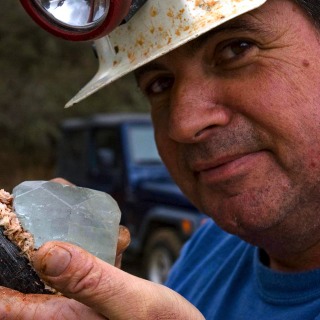 Left: Mine owner and Oceanview Mines, LLC CEO Jeff Swanger proudly beaming over the famed "Prince of Pala" beryl var. aquamarine specimen found in 2007 in the famed 49'er Pocket.
Jeff is CEO of Oceanview Mines, LLC and owner of the Oceanview, Pala Chief and Elizabeth R mines on Chief Mountain. Jeff has had an interest in pegmatites and mining since he was a boy growing up in nearby Escondido, CA. That interest developed into a passion, and Jeff has been mining in his spare time since he was in his teens. Now he's living his dream of discovering the next great gem pocket in the Pala Mining District.
Jeff's education has been on the job, both in his professional life and in his mining passion. After completing his secondary schooling in Escondido, Jeff took a job in the family real estate development business. There he developed valuable skills in managing complex projects and teams of people. His mining education came from working with many of the "old hands" of the Pala Mining District, who taught Jeff the art and science of mining the pegmatites.
As the 1990's came to an end, Jeff wanted to move away from prospecting and working claims that belonged to others and looked to acquire his own mining claim on an promising pegmatite vein. In 1999, he approached miner Roland Reed, owner of the Elizabeth R Mine and unpatented Elizabeth R claim and reached an agreement to acquire the Oceanview Mine in 2000.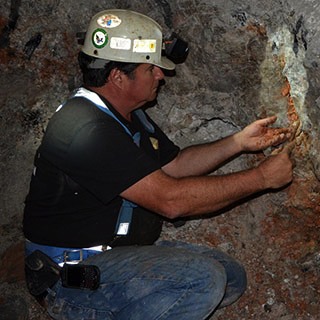 Right: Jeff working a small tourmaline pocket in the Oceanview Mine. It's all hand work when you get into a pocket, and everyone pitches in.
Jeff started out with one business partner, and with just two mining partners, Phil Osborn and Otto Komarek. Along the way the mining team grew with the addition of Peter Renwick in 2001 and Steve Carter and Mark Baker in 2003. They labored for several years with only minor finds as they worked their way deep into the rich zone of the Oceanview pegmatite until their hard work was rewarded with the fabulous strike of the famed 49'er Pocket, discovered on Jeff's 49th birthday in 2007.
Since then a series of rich finds have been made in the Oceanview as the team has moved down dip; you can read more about them in the "Big Strikes!" section of this website. Jeff added on to the holdings of Oceanview Mines, LLC by acquiring the Elizabeth R Mine from Roland in 2010, and the Pala Chief Mine from Bob Dawson in 2011. He now owns all of the significant mines on Chief Mountain, and once again the mountain is alive with mining activity, for the first time in nearly a century.
Jeff has made a mark on the rich mining history of the Pala Mining District, and looks to extend that with the next big strike. What will he and his team find?