Steve Carter, Miner/Drilling-Blasting/Fee Dig Host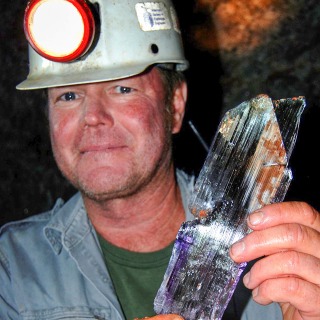 Left: Steve holding a large terminated bi-color kunzite he's just removed from a pocket in the Big Kahuna II zone of the Oceanview Mine.
Steve joined the Oceanview mine team in 2003. His interest in minerals and gems goes back to his boyhood in Escondido. Steve is a life-long resident of the southern California gem-mining region and has over 30 years of experience hunting and mining for gems and minerals.
Steve's education is from the school of life. After completing his secondary schooling in Escondido, Steve started work digging drilling and blasting for his rock-removal business, Carter Drilling and Blasting. Steve and mine owner Jeff Swanger have been life-long friends, spending time hunting for gems in the old mines of the region, and prospecting the many pegmatites. During that time he's worked in many of the pegmatite mines, including the Stewart Mine.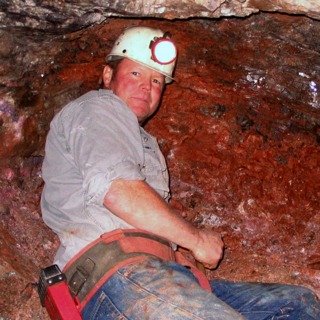 Right: Steve buried deep in the famous 49'er Pocket, working to carefully remove the gemstones.
Steve's expertise and drilling and blasting are important in the mine, where he leads most of these activities for the team. Proper use of explosives requires licensing, training and many years of experience, all of which Steve provides. No one on the mining teams knows the jackleg drill like Steve, and he can drive a set of holes in the tunnel faster than anyone.
While he doesn't do it often, Steve also occasionally helps man the fee digs, where his soft-spoken approach and friendly demeanor make him popular with the crowd.