Daron Fisler, Miner/MSHA Trainer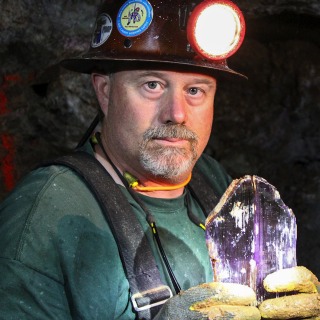 Left: Daron holding two parts of a very large gem-quality kunzite that had broken in the pocket, right after he has dug them out and rinsed the mud off of them.
Daron has been a member of the Oceanview Mining team since 2007. His interest in gems and minerals goes back to his boyhood, and has led him to pursue both mining and gemology; Daron is a GIA-certified gemologist.
Daron studied at the Gemological Institute of America to receive his certification as a Graduate Jeweler Gemologist (GJG). He spent seven years working at the GIA, teaching jewelry manufacturing courses. Prior to that he spent nearly 18 years working in video and broadcast engineering for Cox Communications. Currently you work as a freelance video engineer.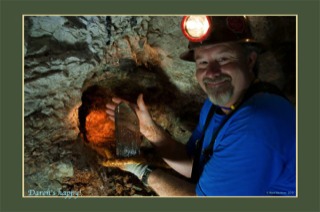 Right: Daron holding a world-class perfectly-terminated gem kunzite crystal he has just removed the pocket behind him in the Oceanview Mine.
Daron was introduced to the Oceanview Mine in 2006, and it reignited his boyhood interest in mining. After a short period of time, he was asked to join the crew and has rapidly become an expert miner. Not only did Daron become certified as an underground miner, he also took it to the next step and became an MSHA certified trainer.
In his spare time, Daron makes a lot of inlay jewelry, and has a gem and mineral business. You can find him at some of the shows throughout the year.