Mark Mauthner, Sales Manager/Photographer/Miner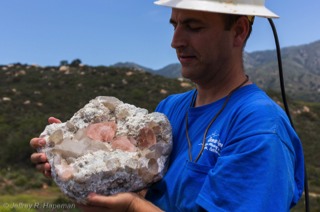 Left: Mark showing off a fabulous plate of beryl var. morganite and quartz crystals on a matrix of albite var. cleavelandite, collected from the Pala Chief Mine.
Mark joined Oceanview mining team in 2007, after his first visits to see and document the discovery of the famous 49'er Pocket. His interest in minerals and gems goes back to his boyhood.
While Mark is an MSHA-certified miner, he spends a great deal of his time on the road as the Sales Manager for Oceanview Mines, LLC. You can see Mark at most of the major international gem and mineral shows, including Tucson, Munich, Denver and more. Mark is also a professional mineral photographer and consultant, and frequently works with his father-in-law, world famous mineral photographer Jeff Scovil.
Mark has a diverse educational background, with undergraduate degrees in Modern Languages and Geology, and Master of Science in Geology from University of British Columbia. He has worked at various museums, including the Houston Museum of Natural Science (home a fabulous collection of minerals, including the famous "Rabbit Ears" tourmaline specimen from the Tourmaline Queen Mine), and relocated to southern California to work at the Gemological Institute of America.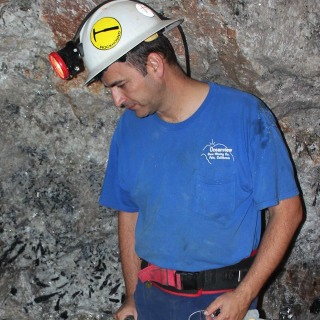 Right: Mark examining the pay streak in the pegmatite in the Oceanview Mine; this is the zone of richest mineralization and where pockets are most likely to be found.
Mark provides most of the professional photography of specimens for the Oceanview Mine. You can see some of his work on the Oceanview Mine Facebook site, typically in the auction galleries. He also documents the mining process when he is underground with the team.
Mark is also a consulting editor for Rocks and Minerals magazine (
http://www.rocksandminerals.org
) and has written two articles on the Oceanview Mine for the magazine, as well as an in-depth review of the history the gem kunzite (See the abstract
here
).
If you are interested in discussing the purchase of specimens from the mines, you can reach Mark by
emailing
him.