John Gregory, Miner/Bobcat Operator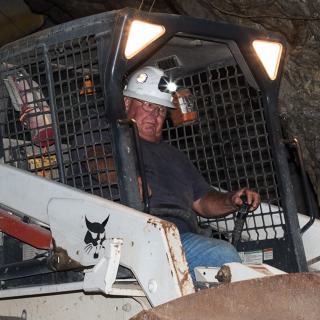 Left: John ("Johnny" to the crew) carefully maneuvers the bobcat up and out of the Oceanview Mine as he "mucks out" the rock and dirt after a round of blasting.

John has been involved with the mines on Chief Mountain for over 25 years, first starting in the Elizabeth R Mine where he worked to help his friend Roland Reed. As a general contractor, John has a great deal of knowledge about electrical and plumbing, skills that come in handy in the mine operations. He also is a primary operator of the Bobcats used to muck out the mines after blasting.
His interest in minerals goes back nearly 30 years, and led to his involvement in the Elizabeth R when he discovered that not only did his friend Roland share that interest, but also owned a mine! While Roland sold the mine to Jeff and has retired from mining, John still comes to mountain every week and works with the crew. His knowledge of the history of the mines and previous discoveries in the pegmatite there are very valuable to the team.